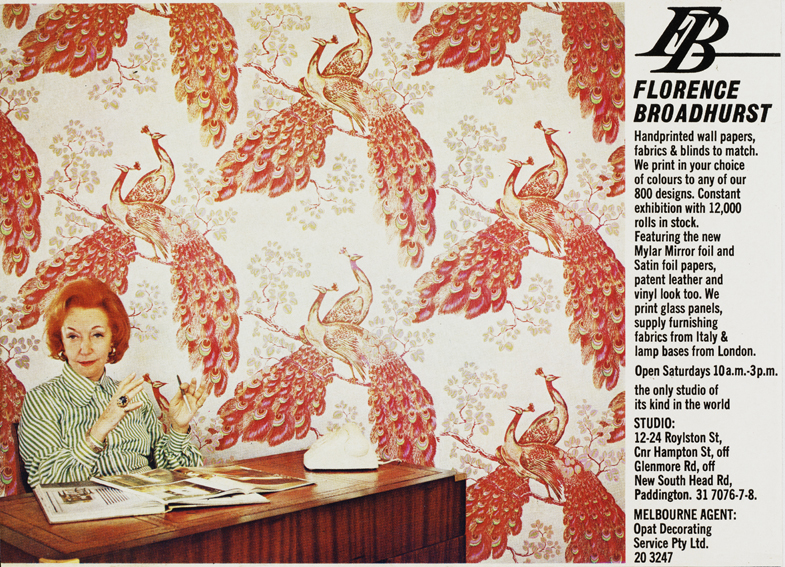 RECOGNISED BY TIME MAGAZINE AS ONE OF THE WORLD'S MOST INFLUENTIAL POST WAR DESIGNERS; FLORENCE BROADHURST'S GROUNDBREAKING DESIGN ARCHIVE IS BLAZING A WORLDWIDE TRAIL.
HER EXTRAORDINARY CREATIONS CAN BE FOUND (ACROSS THE GLOBE) WORLDWIDE, FROM LONDON NIGHTCLUB MADAME JOJOS TO LAS VEGAS MEGA RESORTS.
FLORENCE'S CLIENTELE RANGES FROM ROYALTY TO HOLLYWOOD ELITE, WHO HAVEN'T BEEN ABLE TO RESIST HAVING A PIECE OF HER IN THEIR OWN HOMES.
HER EYE WAS EXQUISITE, HER APPEAL FASCINATING, AND HER APPROACH AT TIMES RADICAL.
BORN IN 1899 IN OUTBACK AUSTRALIA, FLORENCE'S CHARISMA SHONE FROM AN EARLY AGE. FEARLESS FROM WORD GO, SHE SPENT THE ROARING TWENTIES SINGING THROUGHOUT THE FAR EAST THEN SETTLING IN SHANGHAI WHERE SHE RAN A FINISHING SCHOOL.
IN THE 1930'S SHE BECAME "MADAME PELLIER" IN LONDON – A STYLISH FRENCH COUTURIER WITH RICH AND FAMOUS CLIENTS.
WITH EVERY INCARNATION FLORENCE BECAME SOMEBODY NEW – NEW HAIR, NEW ACCENT, NEW HISTORY. EVEN, ON OCCASION, A NEW NAME.
BY THE FIFTIES SHE HAD BECOME AN ENGLISH ARISTOCRAT LIVING IN SYDNEY. AT THE AGE OF 60 SHE DID IT AGAIN, LAUNCHING HER DEFINING VENTURE. A LUXURY, HAND- PRINT WALLPAPER BUSINESS, AND IN SO DOING SHE REDREW THE WORLD.
EVERYWHERE SHE HAD BEEN AND EVERYTHING SHE HAD SEEN FOUND VOICE IN A WHIRLWIND OF CREATIVITY.
FLORENCE'S ARCHIVE GREW TO OVER 500 DESIGNS RANGING FROM TAPESTRIES TO GEOMETRICS AND FLORALS.
UNTIL 1978 WHEN SHE WAS BRUTALLY MURDERED – A GRUESOME CRIME UNSOLVED TO THIS DAY. BUT FLORENCE BROADHURST'S SPIRIT COULD NEVER BE EXTINGUISHED. A NEW LOVE AFFAIR WITH HER DESIGNS IS UNDERWAY. TIMELESS AND DISTINCTIVE, GLOBAL RECOGNITION IS GROWING.
"CLEARLY, BROADHURST DESERVES ANOTHER MOMENT IN THE SPOTLIGHT."
-THE NEW YORK TIMES
OF THE LIFE, THE ENIGMA, THE ICON, THE LEGACY: FLORENCE BROADHURST